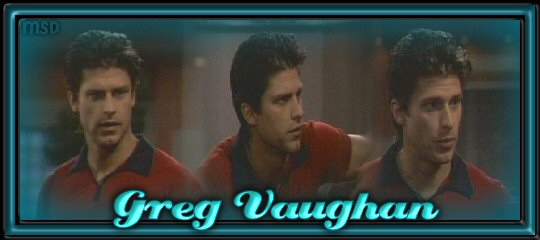 Greg Vaughan joined the cast of General Hospital in the coveted role of Lucky Spencer in February 2003. Named as one of People Magazine's Sexiest Men Alive in December 2002, Greg brings an unmistakable charm to the rich character of Lucky Spencer, son of General Hospital's famous supercouple Luke and Laura.

Greg was born and raised in Dallas, Texas. Shortly after graduating from high school, he ventured to Italy, where he modeled for legendary designer Giorgio Armani. Gianni Versace, Tommy Hilfiger, Banana Republic and Ralph Lauren campaigns soon followed.

After three successful years of modeling, Greg decided pursue acting. In June 1993, Greg came out to Los Angeles to study acting and made it his home one year later in 1994. In just ten months, he landed a starring role on Malibu Shores. He went on to land a recurring role on Beverly Hills, 90210 and guest starring roles on Any Day Now and Buffy the Vampire Slayer. Greg's other television credits include guest starring roles on such popular television series as Will & Grace, Sabrina the Teenage Witch, Glory Days, and Nash Bridges. Most recently, Greg's television credits include a starring role on Charmed, a contract role on Young and the Restless and a guest-starring role on Still Standing.

Greg's feature film credits include For Mature Audiences Only, Poison Ivy: The New Seduction, No Small Ways and Children of the Corn V: Field of Terror.

When he is not working, Greg enjoys a number of sports including golf, basketball, horseback riding, windsurfing and hiking. He also enjoys singing and playing the guitar.